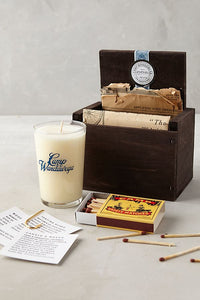 Time stands still at Camp Wandawega, a rustic resort in the heart of the Wisconsin woods and an outrageously Instagrammable retreat for the creative set. This gift box encapsulates the Wandawega spirit and its commitment to the simple pleasures of simpler times.
In the heart of Chicago's warehouse district, the artisans at Tatine have been crafting fragrant journeys since 2001. This candle, evocative of the rugged beauty of a Northwoods campfire, is hand-poured into a beer glass and tucked into a woodkeeper's crate, where you'll also find antique newsprint wrap, a box of matches, a fish hook clip and a deck of stories.
This product is sold by a third party.